We are the immigration lawyers for creative professionals.
A Fresh Approach
We're not your average immigration law firm. We do things differently and are the best at what we do. We eat, sleep and drink occupational visas and immigration issues and we won't rest until we produce a successful outcome for our clients. We pride ourselves in making the visa and immigration processes as clear, streamlined, and easy to understand as possible.
Who We Serve
Our legal team practices exclusively in immigration law with a focus on individuals and companies in creative industries. Fashion, entertainment, design, art, music – you name it, we've handled it.
If you are a foreign creative professional wanting to work in the United States, a creative organization seeking foreign talent to work in your U.S. office, or if you or your relative is seeking residence or having an immigration issue, we can help.
Meet the Team
We have spent our entire careers practicing exclusively in immigration and nationality law and have built a team with unrivaled collective experience and determination to provide the highest levels of professional service.
We ensure that our clients are the most informed about what can be a complicated process. Our successful track record is a direct result of clients who are empowered and actively participate in their immigration journey. We take the extra time to get to know our clients and determine together the best course of action whether that is pursuing an application for an artist visa, permanent residence or citizenship.
What People Are Saying
Alejandro, Michael and the Lehach Filippa team are a class act. Their professionalism and detailed knowledge of the steps to obtaining an O-1 visa gave me confidence throughout the process.

Within six weeks I successfully obtained my artist visa.

Lehach Filippa gave me the tools to put my best foot forward and now I have the creative freedom to work for any employer in the United States.

— Melanie G., Stylist

Anyone who has gone through the immigration process of either obtaining a work visa or citizenship knows that it can be overwhelming. Yet, working with the Lehach Filippa team was such a positive experience.

They took the time to get to know me and address all of my concerns.

Thanks to their hard work, I was able to successfully obtain my Greencard which has allowed me to start my own business and finally work for more than one agency.

— Matteo C., Fashion Model

I like to think of Lehach Filippa as my personal team of lawyers.

Their level of service, attention to detail and tenacity make them the best in the business.

When I first came to their office, they helped me to secure my O-1 visa. When I met my wife, a US citizen, they helped me successfully obtain my Greencard. Lehach Filippa has been with me every step of the way on my citizenship journey. They really care about their clients!

— Eduardo R., Architect

It's rare to find a legal team that is so invested in the success of their clients.

My path to obtaining a work visa was filled with highs and lows, but the Lehach Filippa team was consistent and unwavering.

They were there for me every step of the way and because of their vast experience with every type of immigration law, I was fully aware of my options and able to reach a successful outcome. They are the best, hands down.

— Lucie B., Musician
Contact Us
Our approach is collaborative and team oriented. We ask questions, we engage, we leave no option unexplored. We will be honest and direct about your options. Our rates are very reasonable and in most types of immigration cases a substantial portion of the fees will be due only upon approval.
We invite you to get in touch. Visit our offices for a complimentary consultation or drop us a note to request our introductory materials at hello@lehachfilippa.com
Services
What Do We Do
We focus exclusively on immigration and nationality law. We prepare temporary work visas, applications for permanent residence and represent clients in complex immigration matters. Our clients work in diverse industries such as the performing arts, music, fashion, film, photography, design, fine art, journalism, and more.
Why We Do It
We believe creative professionals should be empowered and active participants in their immigration journey.
We are committed to providing exceptional guidance, clear communication and education for all our clients. We've been called pioneers and progressives in our industry as a result of our streamlined, efficient and fresh approach to obtaining work visas, residence and/or citizenship.
What Type of Client Are You?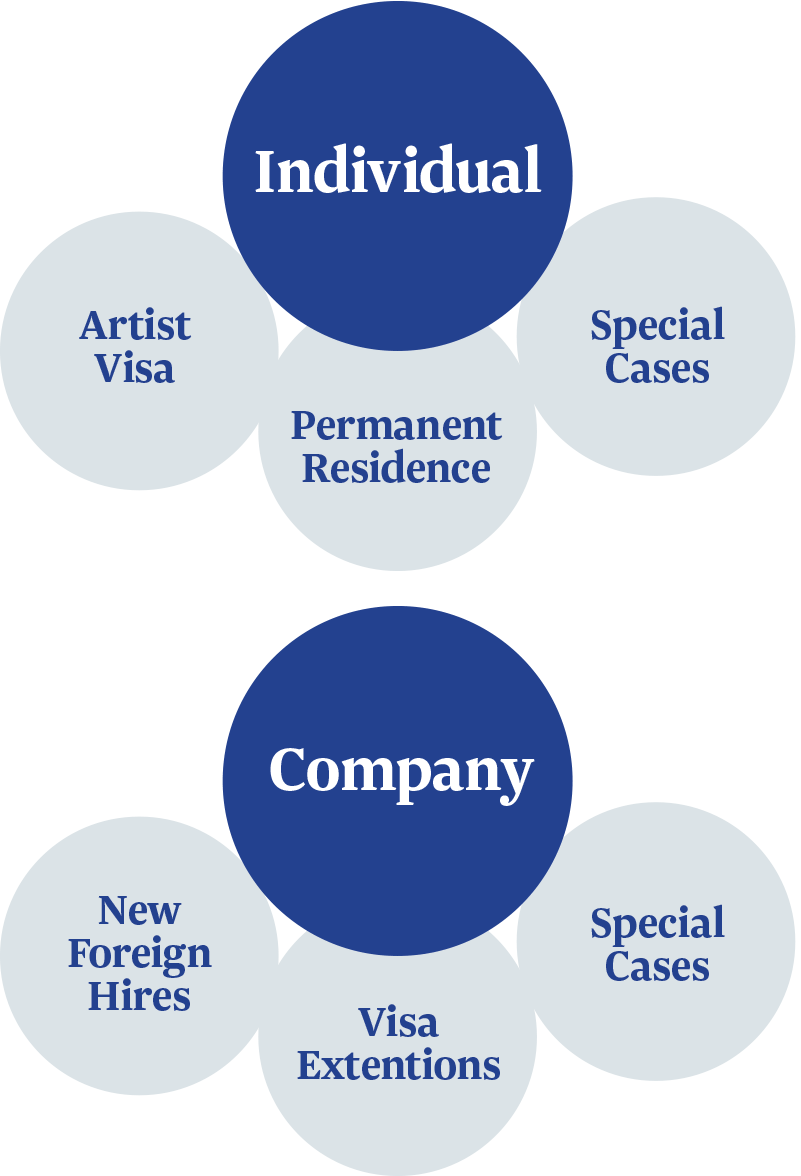 Which Type of Visa and/or
Residence Status Applies to You?
Temporary
Work Visas
O-Extraordinary Ability (O-1B) "The Artist Visa"
H1-B Specialty Occupation
E-3 Specialty Occupation (applicable to Australian nationals)
Treaty National (applicable to Canadian and Mexican nationals)
Permanent
Residence based on Extraordinary Ability
Employer Sponsored Residency
Family Relationship Residence
Special Cases
Asylum
Citizenship
Removal Defense
Our team is experienced in obtaining all types of immigration benefits for creative professionals.
We obtain benefits that will maximize our clients' freedom and professional success in the United States.
The Process
And What to Expect
There are 2 ingredients to the Artist Visa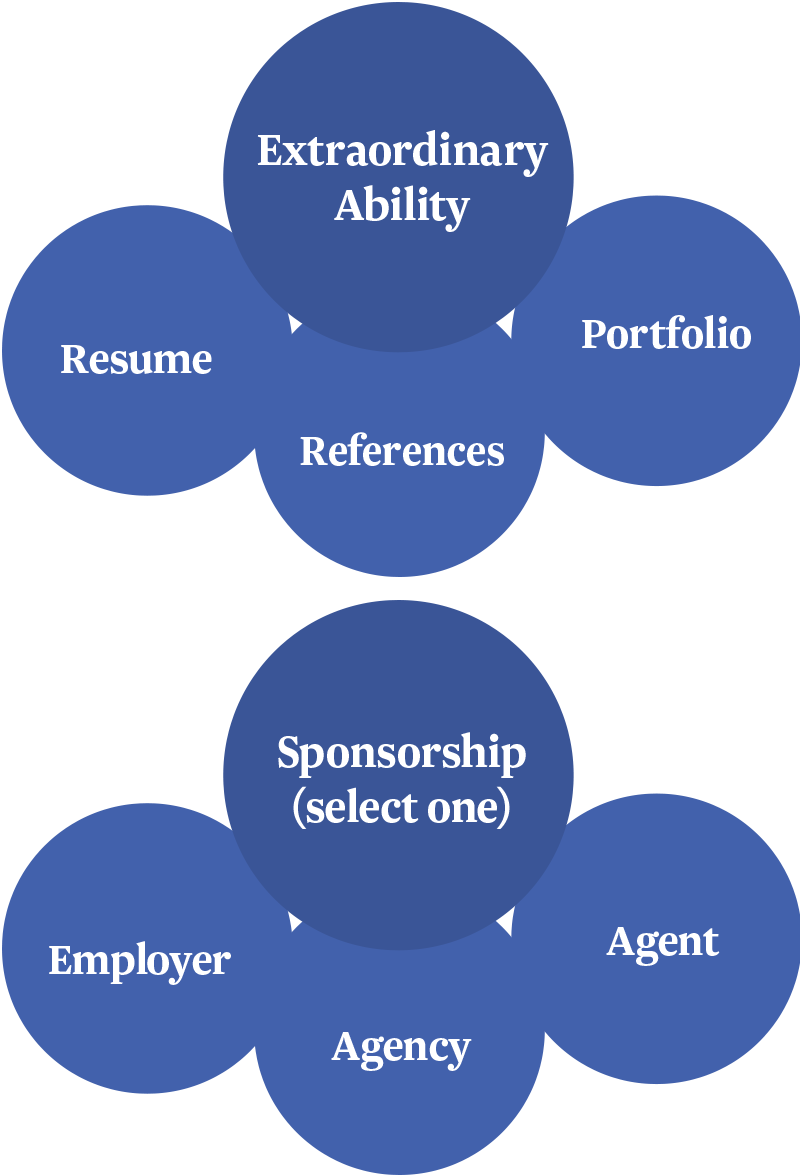 It can seem like a tall mountain to climb, but we're here for you every step of the way.
All 10 steps.

Provide us your elaborated CV/resume with all the details

Work history, description of your role, notable clients, awards, list of press, publications.

Education and timing is everything

We'll discuss the timeline from start to completion, so you'll know what to expect and make sure nothing is unexplored in the visa process.

Provide us a list of at least eight professionals able to speak to your extraordinary abilities

Notable to your field and profession.

Complete a client-sponsorship questionnaire

We'll ask you all the questions we'll need answers to in order to complete your visa application.

Employer, Agency or Agent Sponsor?

We'll talk about the requirements and definitions of each and choose the best course of action together.

Paperwork inventory and checklist

We like efficiency just like you, so our process is made to be as comprehensive and painless as possible – we promise!

Portfolio please

A compilation of all the elements referenced in your CV in visual form when applicable, consider this the proof that your CV is accurate.

We develop your personal plan and navigate the land of forms

We tell you the information we need, we'll be your team to get it done.

Approval of application and/or request for further evidence

We're almost there! We know this process in and out, we make sure to leave no stone unturned to emphasize all the relevant information and achieve the best possible outcome.

Final review and assessment

In some cases this could also include a meeting at the U.S. Consulate or Embassy for which you will be prepared by our A+ team.

Extension time?

If and when it comes time to extend your visa, try to reach out to us at least six months before your current visa expires. Together we'll maximize your options to extend your visa and keep your employment status active.
Our Approach
Education. Collaboration. Results.
Our passion is advising and empowering our clients to successfully navigate the immigration process. We do this through our clients-first approach, we get to know your issues and work with you to determine the best course of action. Our approach is collaborative and team-oriented – we ask questions, we engage, we leave no option unexplored.
We are masters of our craft and we have a formula that works to help our clients achieve their legal goals. The most empowered clients are the most successful clients.
Vision
To empower talented creative professionals seeking a path to work in the United States with the tools to fully understand their legal options and make informed decisions to be active participants in their immigration journey.
Our Mission
Accessibility

To be accessible as a team by cultivating open, honest and direct relationships with clients. We reveal information and share knowledge pivotal to a client's immigration journey.

Excellence

Continue to be the best-in-class, most knowledgeable, preferred choice among creative professionals and organizations for all immigration and naturalization law needs.

Environment

Foster a healthy and productive work environment that reflects our core values of transparency, honesty, and respect so that every employee is recognized and valued for their commitment, talent and skill.

Communication

Our business philosophy is cultivated on information sharing, transparency, directness, mutual respect and honesty between lawyer, team and client.

Compassion

To act with integrity, compassion and respect to achieve the desired goals of our clients.
The Lehach Filippa Fellowship Program
True to our vision, Lehach Filippa also provides free legal services to recipients of the Lehach Filippa Fellowship Program. It is our aim that through the LF Fellowship Program we are able to promote the free exchange of the arts, enrich the cultural fabric of the US, and provide a voice for artists seeking positive social change through artistic mediums.
Guidelines
Artists selected should be able to demonstrate their participation in innovative, progressive or revolutionary work that promotes social, environmental, economic or political justice. LF Fellowship recipients are selected on a bi-monthly basis.
Pro Bono
There is zero cost to apply for the LF Fellowship Program. If chosen, our team provides our complete services for the US artist visa application free of charge minus standard government processing fees.
How to Apply
For further details regarding qualifications, frequently asked questions, and to apply for the program please click here.
Team Bios
Michael Lehach, Esq.
Founding Partner
Michael is a founding partner of the law office of Lehach Filippa. Michael has spent over a decade committed to reuniting families and helping clients to pursue opportunities to live and work in the United States. Since 2004, he has been advocating and litigating for clients on almost every type of immigration issue including complex asylum and waiver cases, artist visas, green cards, family petitions, criminal-immigration cases, as well as appeals and Federal petitions for review. Michael is at ease in the courtroom and has presented oral arguments on precedent-setting cases before the Board of Immigration Appeals and the U.S. Court of Appeals for the Second Circuit. In 2011, Michael merged his immigration practice with that of his partner Alejandro Filippa to form an immigration law firm focused on facilitating artist visas and residence applications for creative professionals. Today, Lehach Filippa is one of the most recognized and fastest growing law practices for immigration and nationality law in New York.
Michael earned his undergraduate degree in political science from the University of Florida, and his Juris Doctor from Georgetown University Law Center in Washington, D.C. Michael is proficient in Mandarin and completed further studies at Taiwan Normal University in Taipei, Taiwan and also at Shaanxi Normal University in Xi'an, China. Outside the office you can likely find Michael spending time with his wife or playing the guitar, bass or the drums.
Alejandro Filippa, Esq.
Founding Partner
Alejandro is a founding partner of the law office of Lehach Filippa. Alejandro has spent over a decade focused exclusively on immigration law. He began his career working with the New York Association for New Americans, a non-profit dedicated to providing legal services to the most underserved immigrant communities in the city. Later, Alejandro consulted for a few private law offices in Midtown Manhattan where he learned the inner workings of business immigration and first dreamed of starting his own office.
By 2006, Alejandro was in business for himself, continuing his passion for immigration law and narrowing his focus to facilitate work visas for creative professionals seeking to share their artistic talents in his hometown of New York City. In 2011, Alejandro partnered with fellow colleague and immigration attorney, Michael Lehach, to form an immigration law firm focused on facilitating artist visas and residence applications for creative professionals. Today, Lehach Filippa is one of the most recognized and fastest growing law practices for immigration and naturalization law in New York. Alejandro earned his undergraduate degree in history and political science from New York University and his Juris Doctor from New York Law School. When not in the office you can find Alejandro spending time with his family at their home in lower Manhattan or brushing up on his Muay Thai martial arts moves.
Jung Eun Kim, Esq.
Managing Attorney
Jung is a managing attorney and is responsible for supervising a team of associates, administrative staff and contract writers at Lehach Filippa. Jung's areas of focus include temporary visas, RFE petitions, permanent residence and asylum. Prior to joining the practice in 2013, Jung represented victims of domestic violence, child custody, and immigration relief cases at the New York Legal Assistance Group. Previously, Jung represented petitioners in family court on behalf of the Courtroom Advocates Project based in New York. Jung earned her undergraduate degree from Ewha Woman's University, South Korea and her Juris Doctor from New York Law School. In her spare time, Jung enjoys spending time with her family, following the latest trends, and enjoying haute cuisine.
Sarah Bibawy, Esq.
Attorney
Sarah is an attorney at Lehach Filippa and has spent her entire legal career in immigration law. Sarah began as an intern at Lehach Filippa working on special projects such as Violence Against Women Act (VAWA) petitions and also family based petitions and immigration applications. Soon after, Sarah continued to hone her skills in all matters of immigration law working predominantly on visas for corporate clients in the sports, fashion and fitness arenas at Fragomen, Del Rey, Bersen & Loewy. Sarah also served as a judicial intern for the Honorable Leo M. Gordon where she was responsible for managing research for a variety of customs and trade cases on behalf of the United States Court for International Trade. Sarah grew up in NYC and earned her undergraduate degree in psychology from Hunter College, City University New York and her Juris Doctor from New York Law School. When not in the office, you can find Sarah in search of the perfect coffee shop to indulge in her favorite things: coffee, music and poetry.
Kaitlyn Marrero
Paralegal
Kaitlyn is a paralegal at Lehach Filippa and is responsible for assisting in all matters of immigration law with a focus on O-1 visas. Prior to joining the firm in 2015, Kaitlyn worked with the Puerto Rico Federal Affairs Administration where she was responsible for coordinating cultural events, administrative petitions and drafting press releases. Prior to that, Kaitlyn was sharpening her legal skills at the law offices of Daniel A. Serratelli focusing on child custody, divorce, and domestic violence cases at the local, federal and state levels. Kaitlyn began her career helping others as a volunteer with the New York Cares organization where she was responsible for organizing logistics and connecting those most in need to the food banks they operate throughout the city. Kaitlyn earned her undergraduate degree in political science at Pennsylvania State University. When not in the office you can find Kaitlyn at the volleyball court where she plays for a local league or enjoying a concert at one of her favorite music venues throughout the city.
Amy Vazquez
Paralegal
Amy is a Paralegal at Lehach Filippa and has gained extensive experience in the preparation of O-1 visa petitions. Prior to her current position, Amy was our Administrative Director, handling calendars, scheduling, logistics, and general office duties. Before coming to Lehach Filippa, Amy was responsible for administrative functions at a general practice law office in Newburgh, New York. Prior to that, Amy worked as a customer service representative in the fashion industry for notable brands including Neiman Marcus and Burberry. She earned her undergraduate degree in international relations and political science from Iona College located in New Rochelle, NY. Outside of the office, Amy spends her time with family and friends, traveling, skiing during the winter supporting her favorite baseball team, the Mets.
Abbey Kruger
Office Manager
Abbey is the office manager at Lehach Filippa and is responsible for managing all administrative functions for the office. Abbey has championed the migration of all records from analog to digital and is focused on developing the most efficient and streamlined processes to assist both clients and staff. Prior to joining the Lehach Filippa team, Abbey was heading office administration functions and also providing English instruction for Be Fluent NYC, a premier English language learning program in the city that connects students with individual instructors. Abbey also held roles as an English instructor at the American Advanced Institute of Technology in Pennsylvania, often guiding students wishing to complete their studies at a US university through the F1 visa process. Abbey began her career teaching ESL classes to business professionals at Bridge English in Santiago, Chile. Abbey earned her undergraduate degree in Biological Anthropology at Boston University located in Boston, MA. When not in the office, you can find Abbey swinging from hammocks in her aerial yoga class, trying new recipes, and exploring different neighborhoods in and around New York City.